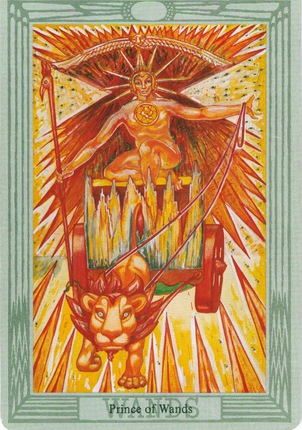 Titles:
The Prince of the Chariot of Fire; Prince and Emperor of the Salamanders
Element:
Air of Fire
Astrology:
20° Cancer - 20° Leo (♋ ♌ ♌ = 4 of Cups, 5 of Wands, 6 of Wands)
Time:
12 July - 11 August
Symbols/Colours:
he is a

warrior

in

complete armour

of scale mail, but

his arms are bare

on account of his

vigour and activity

;
he wears a

rayed crown

surmounted by a

lion's head winged

, and from this crown depends a

curtain of flame

;
on

his breast

is the

sigil of To Mega Therion

;
in his

left hand

he bears the

Phoenix wand of the Second Adept

; the wand of

Power and Energy

, while with

his other arm

he reins the

lion which draws his chariot

, the chariot which is fortified by a

wheel radiating flame

;
he rides upon a

sea of flames

, both

waved and salient

.
Personality:
the moral qualities appropriate to this figure are

swiftness

and

strength

;
but he is sometimes inclined to

act on impulse

; sometimes easily led by external influences; sometimes, especially in trifles, a prey to

indecision

;
he is often

violent

, especially in the expression of an opinion, but he does not necessarily hold the opinion about which he is so emphatic;
he states a vigorous proposition for the sake of stating it; he is in fact

very slow to make up his mind

thoroughly on any subject, but always

sees both sides

of every question;
he is essentially

just

, but always feels that justice is not to be attained in the intellectual world;
his character is intensely

noble

and

generous

; he may be an

extravagant boaster

, while slyly laughing both at the object of his boast and at himself for making it;
he is

romantic

, especially in matters of history and tradition, to the point of folly, and may engineer "stunts" or

play elaborate practical jokes

;
one of his greatest faults is

pride

; meanness and pettiness of any kind he holds in infinite scorn; his

courage

is fanatically strong, and his endurance

indefatigable

;
he is always

fighting against odds

, and always wins in the long - the very long - run; this is principally due to his

enormous capacity for work

, which he exercises for its own sake, "without lust of result";
when this card is badly dignified, the character

degenerates

; each of the qualities mentioned above is found in its antithesis;
there is

great cruelty

in him, partly

sadistic

and partly due to callousness arising from

indifference

- and, in a sense,

laziness

!
so too he may be

intolerant

,

prejudiced

and

idle

- principally because it saves trouble;
he may furthermore be an

empty boaster

and a

great coward

.