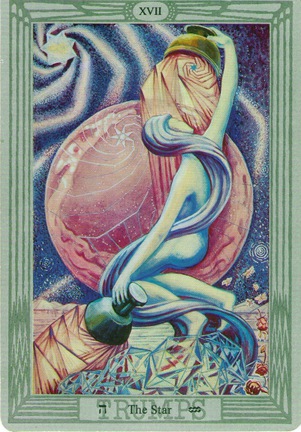 Titles:
The Daughter of the Firmament, The Dweller between the Waters
Hebrew letter:
ה (He = window = 5) [Single Letter = Zodiacal Trump]
Element:
Air
Astrology:
Aquarius ♒ - Fixed Air - The water bearer (ruler: Saturn/Uranus, exaltation: -; detriment: Sun, fall: Neptune)
Time:
21 January - 18 February
Path on the Tree of Life:
15th Path (Chokmah ↔ Tiphareth; 2 ↔ 6)
Symbols/Colours:
the picture represents

Nuith

, our

Lady of the Stars

;
the figure of the goddess is shown in manifestation, that is, not as the surrounding space of heaven, shown in Atu XX, where she is the pure philosophical idea continuous and omniform; in this card she is definitely personified as a

human-seeming figure

; she is represented as bearing

two cups

, one

golden

, held high above her head, from which she pours water upon it; (these cups resemble

breasts

, as it is written: "the milk of the stars from her paps; yea, the milk of the stars from her paps");
behind the figure of the goddess is the

celestial globe

; most prominent among its features is the

seven-pointed Star of Venus

, as if declaring the principal characteristic of her nature to be

Love

; from the golden cup she pours this

ethereal water

, which is also

milk and oil and blood

, upon her own head, indicating the eternal renewal of the categories, the inexhaustible possibilities of existence;
the left hand, lowered, holds a

silver cup

, from which also she pours the

immortal liquor

of her life. (this liquor is the

Amrita of the Indian philosophers

, the

Nepenthe and Ambrosia of the Greeks

, the

Alkahest and Universal Medicine of the Alchemists

,

the Blood of the Grail

; or, rather, the

nectar

which is the mother of that blood; she pours it upon the

junction of land and water

. this water is the water of the Great Sea of

Binah

; in the manifestation of Nuith on a lower plane, she is the

Great Mother

;
in the left-hand corner of the picture is the

star of Babalon

; for Babalon is yet a further materialization of the original idea of Nuith; she is the

Scarlet Woman

, the sacred

Harlot

who is the lady of Atu XI;
from this star, behind the celestial sphere itself, issue the curled

rays of spiritual light

;
every form of energy in this picture is

spiral

;
it is only in the lower cup that the forms of energy issuing forth show

rectilinear

characteristics.